Continuing the Collegian Legacy
The Daily Collegian Alumni Interest Group promotes the Collegian; provides a means for alumni and friends of The Daily Collegian to connect; and stimulates continued interest in The Daily Collegian experience. Students like 2020-21 Business Manager Sarah Andriano and Editor in Chief Maddie Aiken continue to build the Collegian legacy. We acknowledge the good work of outgoing Business Manager Colsen Ackroyd and Editor in Chief Elena Rose as the graduate and enter the ranks of Collegian Alumni.
Stay Informed, Get Connected, Support Our Collegian Students
Vote in 2020 Collegian AIG Board Election
The 2020 Collegian Alumni Interest Group Board of Directors Election is now open, with four candidates nominated to fill four seats on the Board.
All Collegian alumni are encouraged to vote in the election, which is now open through August 20.  Read More. . .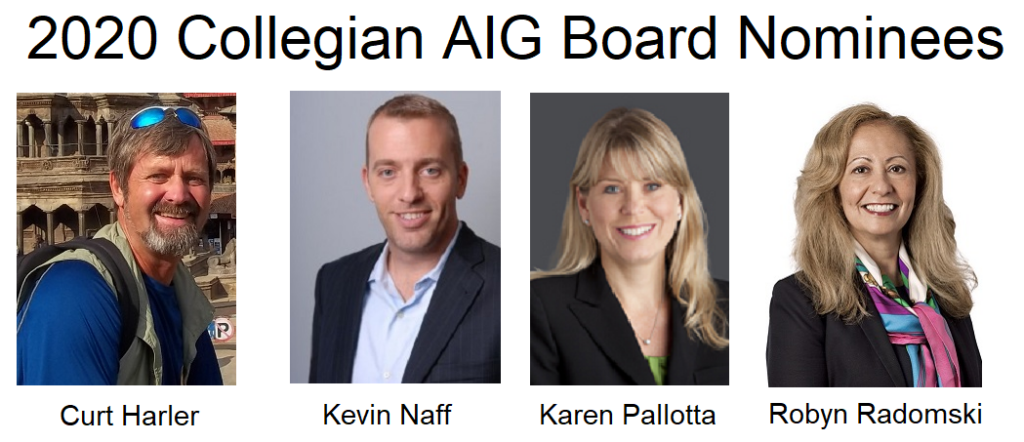 The Daily Collegian Alumni Interest Group Board has approved revisions to the organization's Bylaws to clarify roles and processes -- especially around resignation of officers -- and to clarify the ability of former Board members to serve on the Board at future dates. The bylaw revisions will be put to a vote of AIG members during our annual election, to be held from August 30th through September 10th. The ballot...